Middle School Band Camp
July 10 - 14, 2023
(placement auditions Sunday, July 9, 2023)
The Middle School Band Camp is a day camp for middle school students who have completed at least one year of instrumental study. This five-day camp is held at the MSU College of Music and provides students with an opportunity to perform with other talented students, receive class instruction in instrumental technique, and explore music through musicianship classes. Time spent studying and rehearsing culminates in a concert for parents and friends held on the final day of camp at MSU's Auditorium (campus map).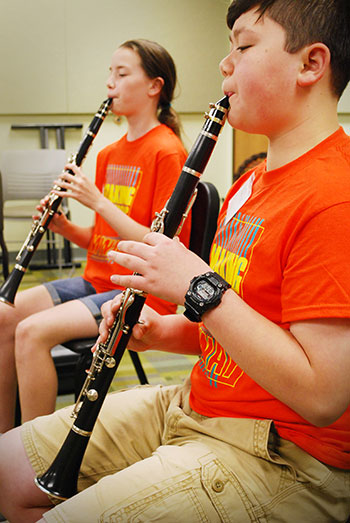 Instrumentation
Every effort is made to create balanced band instrumentation. Listed below are the numbers of students typically accepted for each instrument. Please note, the numbers below reflect the students needed for two bands.
Desired Instrumentation
Flute: 40
Bassoon: 8
Cornet/Trumpet: 36
Tuba: 8
Clarinet: 40
Alto Saxophone: 20
French Horn: 16
Percussion: 14
Bass Clarinet: 8
Tenor Saxophone: 4
Trombone: 24
Oboe: 8
Baritone Saxophone: 4
Euphonium: 8
Acceptance is on a first-come, first-served basis. (A camper's place is only reserved once the camp registration forms and payment have been turned into CMS.) Once instrumentation needs are met, a waiting list is created in case a placed camper is no longer able to attend.
Daily Schedule
| | |
| --- | --- |
| 9-10:15 a.m. | Band rehearsal |
| 10:20-11:20 a.m. | Music theory & appreciation class |
| 11:25 a.m. - 12:45 p.m. | Lunch on MSU's campus |
| 12:45-1:45 p.m. | Sectionals |
| 1:50-2:50 p.m. | Band rehearsal |
 Check out the fun!
Ready to Register? 
To pay camp tuition online, please click on this link, click on 'East Lansing,' and 'Middle School Band Camp Payment.'