Beginning Strings Camp
August 7-11, 2023
Beginning Strings Camp introduces violins, violas, and cellos to children ages 6-12 years. Camp gives students five days of hands-on instruction from professional string teachers on their instrument of choice, while engaging in singing and enrichment activities.
Camp will be held from 9 a.m. to 1 p.m. on Monday through Friday, and will include a brief snack time. Campers will need to bring a snack and water each day. On the final day of camp, a final performance by the campers will be held at CMS at 2 p.m.
Instrumentation
Instruments will be provided to campers to borrow during camp. Students who own an appropriately-sized instrument are welcome to bring this instrument to play during camp. Although every effort will be made to match each camper with the string instrument he/she chose at the time of registration, campers may be asked to choose an alternate instrument if one is no longer available.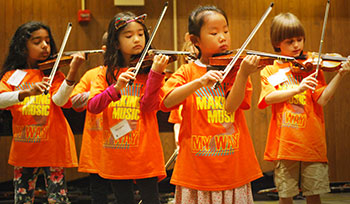 Check out the fun!
Ready to Register?
To pay camp tuition online, please click on this link, click on 'East Lansing,' and 'Beginning Strings Camp Payment'.